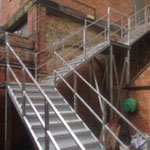 Simple Mezzanines recently designed and installed a new external escape staircase at Bewdley Museum, to allow guests using their wedding venue to exit safely via a secondary route if ever the need arises.
The existing staircase was over 100 years old and did not meet the criteria for modern escape stairs – it was too steep, parts were degraded to a worrying degree and the structure simply didn't meet the standards which Wyre Forest District Council expect of their public buildings!
The museum occupies a very old building with limitations in place as far as what can be introduced into the space – the yard which the stairs exit into has an old brick 'slab' and is entirely enclosed – the thoroughfare immediately adjacent to the yard is used by the public to move between the Tourist centre and the museum gardens and concessions, so Simple Mezzanines had very limited space into which the new stair could be sited, however the desired solution was arrived at quickly in tandem with the museum management and the installation was effected speedily and without impacting upon the ease at which members of the public could safely pass through the space!
Weddings at Bewdley Museum can be enquired about by following this link: