Glass Deck Inserts for Mezzanine Flooring
We recently manufactured and installed a new suite of mezzanine flooring in a leisure environment. The client wanted infilled handrailing with a combination of simple perforations and corporate logos. They also asked if we could do some glass panels in the deck. This allowed their customers to view the action taking place below whilst they enjoyed the cafe facilities!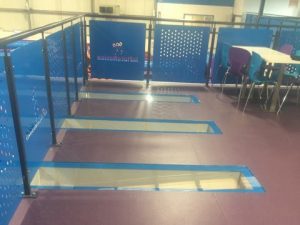 Simple Mezzanines sought advice and provided what the client wanted for their mezzanine flooring.  We formed fire rated bulkheads below the glass panels to hide the floor steelwork. We also applied painted borders around the panes to hide the steel seating channels upon which the glass sits.
Customers can now view the area beneath the mezzanine flooring whilst standing on the glass inserts (if they wish to).
If this is something your company would be interested in then contact us here and we'll get in touch with you very soon.