Specifying Mezzanine Finish and Upgrades
There are vast possibilities for specifying your mezzanine finish and upgrades. For instance, you could specify upgraded handrail designs and different paint finishes to suit your environment.
Mezzanines follow pretty much a standard design irrespective of their proposed use and are either:
Hot rolled main steel structure
Cold rolled joists
Particleboard or steel decking
From there on in, it's the way the floor is developed which changes its overall appearance to the mezzanine finish:
Retail mezzanine floors have partitions, floor coverings, upmarket stairs and balustrades added.
Commercial mezzanine floors have things like carpet tiles laid and partitioned enclosures erected to create individual offices
Industrial mezzanine floors tend to be left very much as they were when they were initially built. They have little further development beyond the addition of materials handling and storage products.
You may think your application would benefit from a more polished look. One of the main ways to achieve this is by specifying high quality stair and handrail finishes.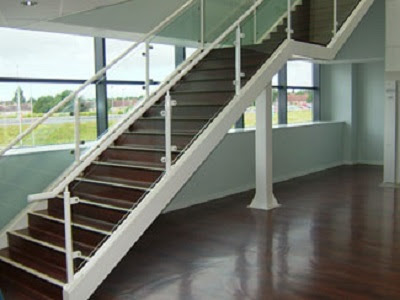 Glass infill panels, stainless steel components, powder coated steelwork in non-standard RAL or BS colours can all be supplied. These can all, when done well, add a great deal to the aesthetic of a bog standard mezzanine.
Simple Mezzanines can provide many different mezzanine finishes and designs to hand railing and stairs. We're always happy to discuss your requirements at the initial investigation stage.
Related Blogs